3. M33 SS DAGGER DOUBLE MARKED EICKHORN
EXCELLENT PLUS SS M33 DAGGER WITH NEAR MINT DOUBLE MARKED RZM 941
EICKHORN 35 TO 41 TM BLADE. SCABBARD IS THE PAINTED TYPE WITH 98%
ORIGINAL PAINT. HILT HAS PLATED FITTINGS THAT ARE VERY NICE FOR THE
TYPE AND GRIP HAS A NICE ENAMEL SS BUTTON AND SILVER EAGLE. WOOD GRIP
SHOWS SOME ROUGHNESS NEXT TO LOWER CROSSGUARD WHICH I NORMAL ON THESE
RZM PIECES. VERY HARD TO FIND SS M33 TYPE AND PRICED AT $2995 PLUS $25
SHIPPING STATESIDE
4. POSTSCHUTZ LEADER'S DAGGER BY WEYERSBRG
HERE IS ONE OF THE RARE THIRD REICH ISSUE DAGGERS; THE POSTSCHUTZ
LEADER'S DAGGER. IN VERY GOOD CONDITION IT HAS A NICK FREE BLADE IN
VERY GOOD POLISH BY PAUL WEYERSBERG. NICKEL PLATED FITTINGS WITH LOWER
CROSSGUARD MARKED DRP WITH ISSUE NUMBER 1355 AND NICE ENAMEL SWASTIKAS.
NICKEL SILVER CHAIN WITH USUAL DRGM MARKED CLIP. SCABBARD PAINT RATES
APPROXIMATELY 70% ORIGINAL BLACK AND SHOWS PERIOD WEAR, BUT NO DENTS.
BLACK WOODEN GRIP HAS SOME MINOR SMALL CHIP NEXT TO CROSSGUARD THAT
WOULD BE COVERED BY PORTEPEE AND POSTSCHUTZ GRIP INSIGNIA IS IN PLACE.
PRICE IS $3450 PLUS $35 STATESIDE SHIPPING
2. M33 SS DAGGER BY RZM 807/36
ALL TOO OFTEN THESE 807 MARKED DAGGERS ARE REPRODUCTIONS, BUT
HERE IS YOUR CHANCE TO ADD AN ORIGINAL ONE IN SUPER CONDITION TO ADD TO
YOUR COLLECTION. BEAUTIFUL BLADE IN EXCELLENT PLUS TO NEAR MINT
CONDITION WITH NICE CROSS GRAIN FINISH. TRADEMARK IS CLOSE TO THE LOWER
CROSSGUARD AS IT SHOULD BE. NICKEL SILVER FITTINGS AND GRIP IS VERY
NICE WITH NICE ENAMEL SS BUTTON. BLACK PAINTED SCABBARD IS CLOSE TO
100% ORIGINAL PAINT AND NO BAD DINGS OR DENTS. PRICE IS $3250 PLUS $25
SHIPPING STATESIDE.
6. NSKK DAGGER WITH BLACK 3 WAY HANGER BY CHROMOLIT
HERE IS A NICE EARLY NSKK DAGGER WITH NICE BLACK LEATHER 3 WAY
HANGER. BLADE BY CHROMOLIT IN EXCELLENT POLISH SHOWING LIGHT WEAR AND
NICE TRADEMARK. BLACK PAINT OVER BROWN ANODIZE DONE IN PERIOD SHOWS
SOME WEAR, MAINLY TO REVERSE SIDE. BEAUTIFUL BLACK LEATHER 3 WAY
HANGER. NICE DARK GRIP. PRICE IS $1195 PLUS $25 SHIPPING
7. SA DAGGER WITH 3 WAY HANGER BY PETER LUNGSTRASS
EXCELLENT PLUS CONDITION SA DAGGER WITH NICE 3 WAY HANGER BY PETER
LUNGSTRASS. EXCELLENT BLADE IN NICE POLISH WITH NO NICKS R SHARPENING.
NICE CHIP FREE GRIP AND NICKEL SILVER FITTINGS AND ENAMEL SA BUTTON.
BROWN ANODIZED SCABBARD THAT IS DENT FREE, BUT A COUPLE OF MINOR
DEPRESSION TO LOWER FITTING. PRICE IS $1095 PLUS $25 SHIPPING
8. GERMAN POLICE SWORD WITH SILVER & BLACK SWORD KNOT BY LUNEESCHLOSS
This beautiful sword is in super condition with the scarce plated blade in near mint condition, nice plated hilt with dark copper colored police eagle wreath and swastika and chip free grip with silver wire wrap. Wonderful black striped silver bullion sword knot. Has leather washer and dent free scabbard with 96% original paint and nice bright silver fittings. If you have always wanted a nice police sword, this is the one for you. Price is 1750.00 plus shipping.
9. LUFTWAFFE SWORD WITH SILVER FITTINGS AND HANGER BY WEYERSBERG.
Excellent condition with silver plated fittings and nice leather with the original leather moon shaped hanger sewn in place to the two rings on scabbard (many times missing). Waffen Amt marked bright Weyersberg plated blade with no sharpening or nicks, but a minor ripple to the intact tip. Brass swastika discs and nice wire wrapped grip. Just a nice, used Luftwaffe Sword with hanger and priced at $1350.00 plus shipping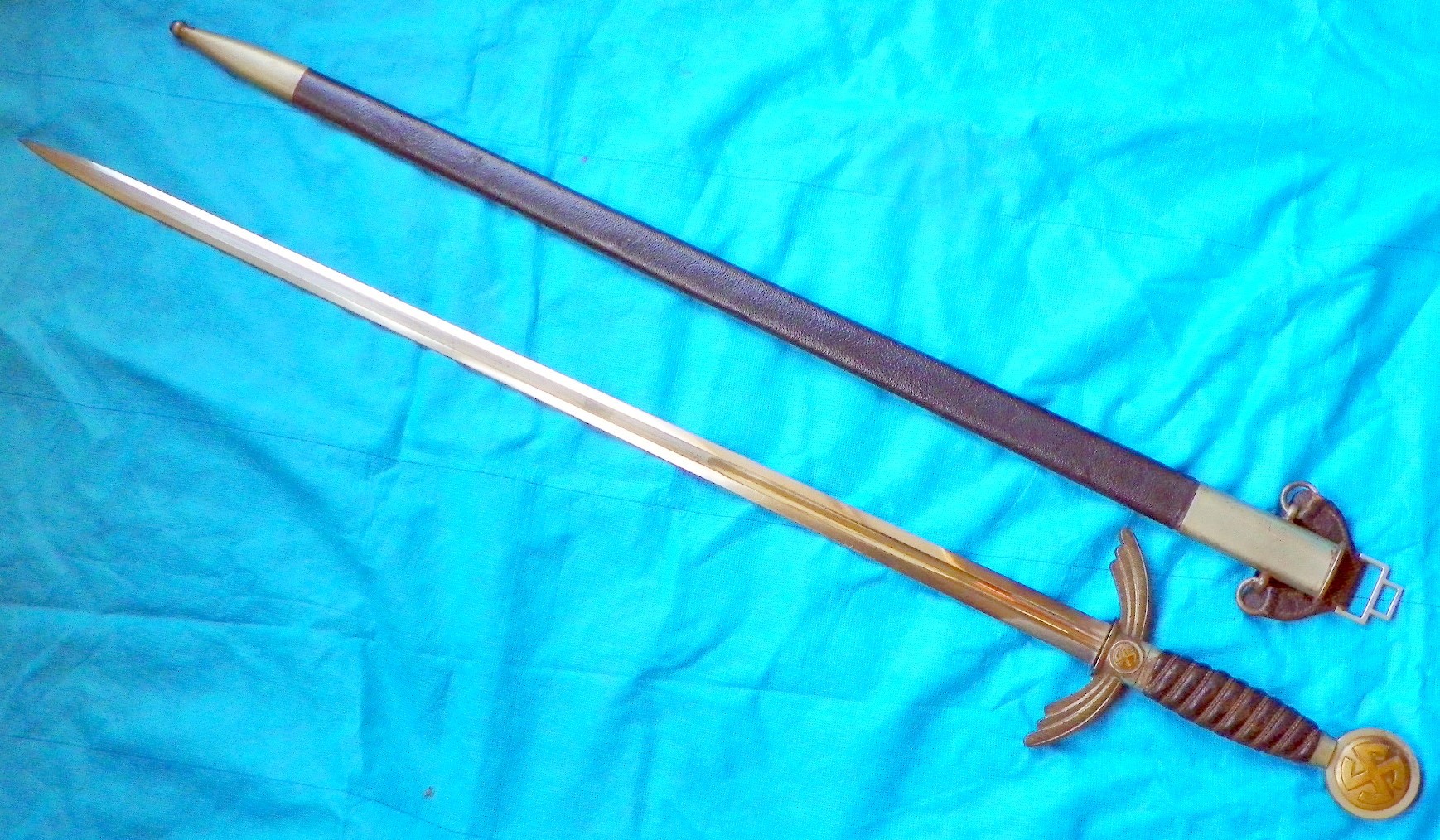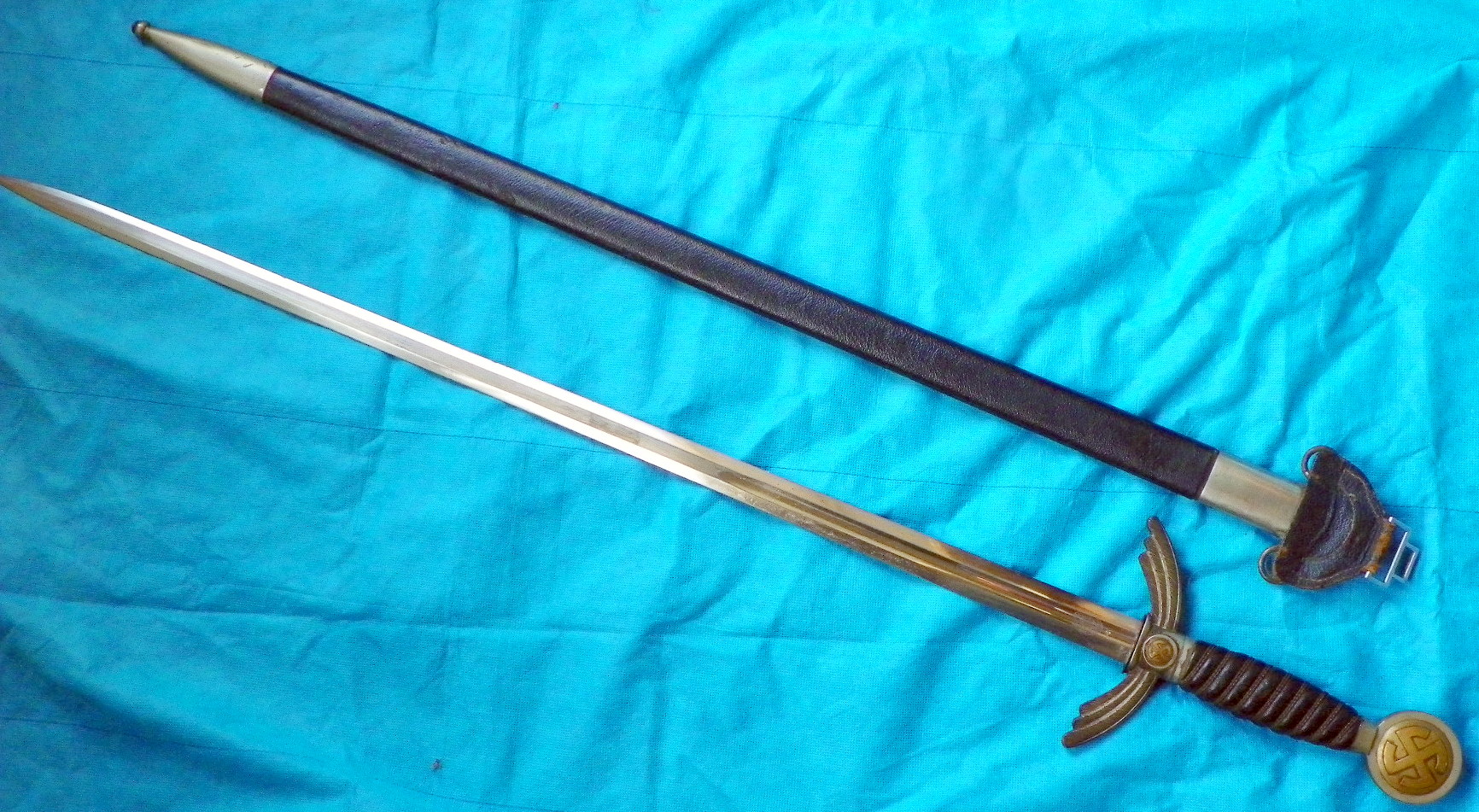 1. SS M36 DAGGER #32248 OWNED BY SS OBERSTRUMBANNFUHRER JOHANNES LUTHER
Here is an early M366 SS Chain Dagger with nickel silver fittings
and numbered 32248 on the lower crossguard for this SS officer.
Excellent plus blade, nickel silver Type 2 chain still with a lot of
original darkening, original black painted scabbard showing wear and use
with approximately 70% remaining, wood grip shows some wear with nickel
silver eagle and enamel button. I will include a copy of the officer's
entry on the 1937 SS Dienstaltersliste showing some details of his unit
and service and give the buyer enough information for more in depth
research. This is one of the higher ranking officer dagger that I have
had to offer in a long time. Price is $7495 pus $25 shipping stateside
5. RARE SA MANUFACTURER: SPALTENDER MUNCHEN DAGGER
THIS IS THE FIRST ONE I HAVE HAD IN OVER 60 YEARS OF COLLECTING:
SPALTENDER OF MUNICH. BLADE GRADES EXCELLENT PLUS IN NICE POLISH AND NO
NICK OR SHARPENING. BEAUTIFUL BLOND GRIP THAT IS SHIP FREE WITH NICE
ENAMEL BUTTON AND NICKEL SILVER EAGLE AND NICKEL CROSSGUARDS WITH O
MARK. ANODIZED BROWN SCABBARD SHOWS SOME WEAR AND HAS INITIALS LIGHTLY
SCRATCHED INTO REVERSE. NO DENTS TO BODY AND MINOR DEPRESSION TO BALL
BOTTOM. HAS HANGER WITH NICKEL SILVER CLIP. PRICE IS $1250 PLUS $25
SHIPPING STATESIDE.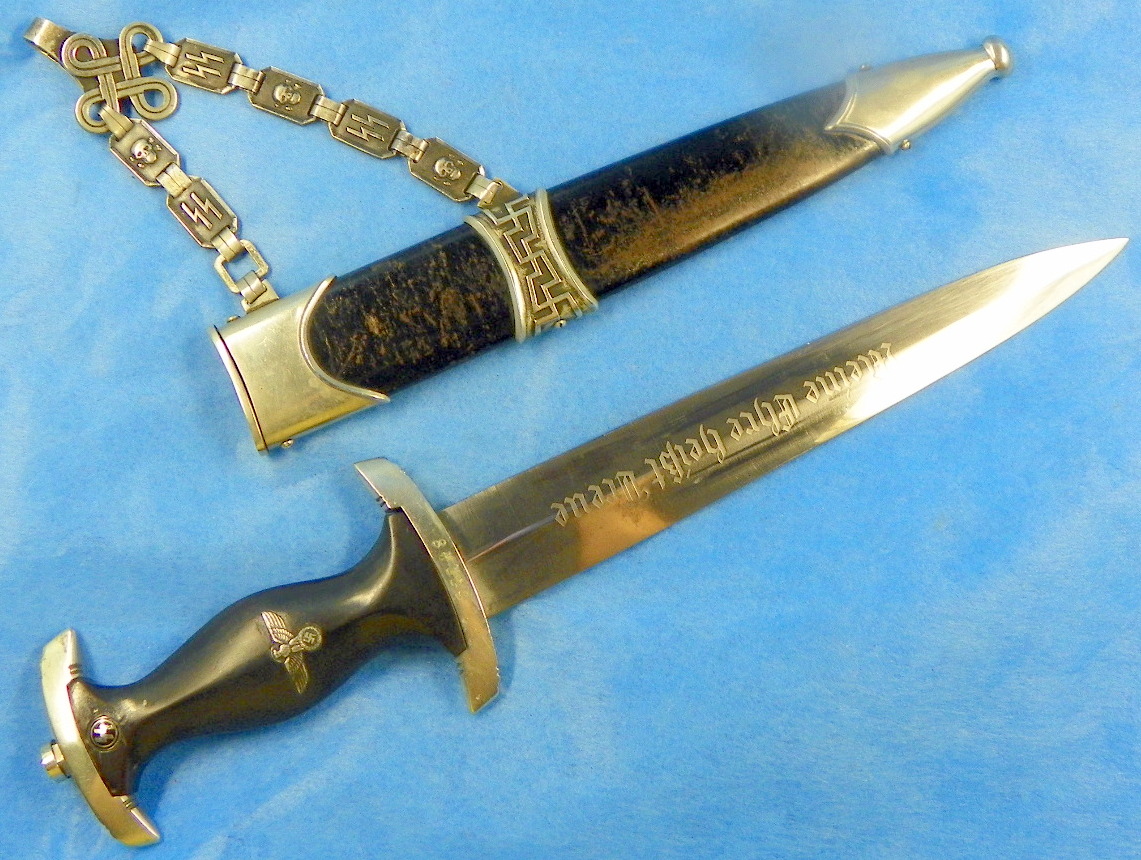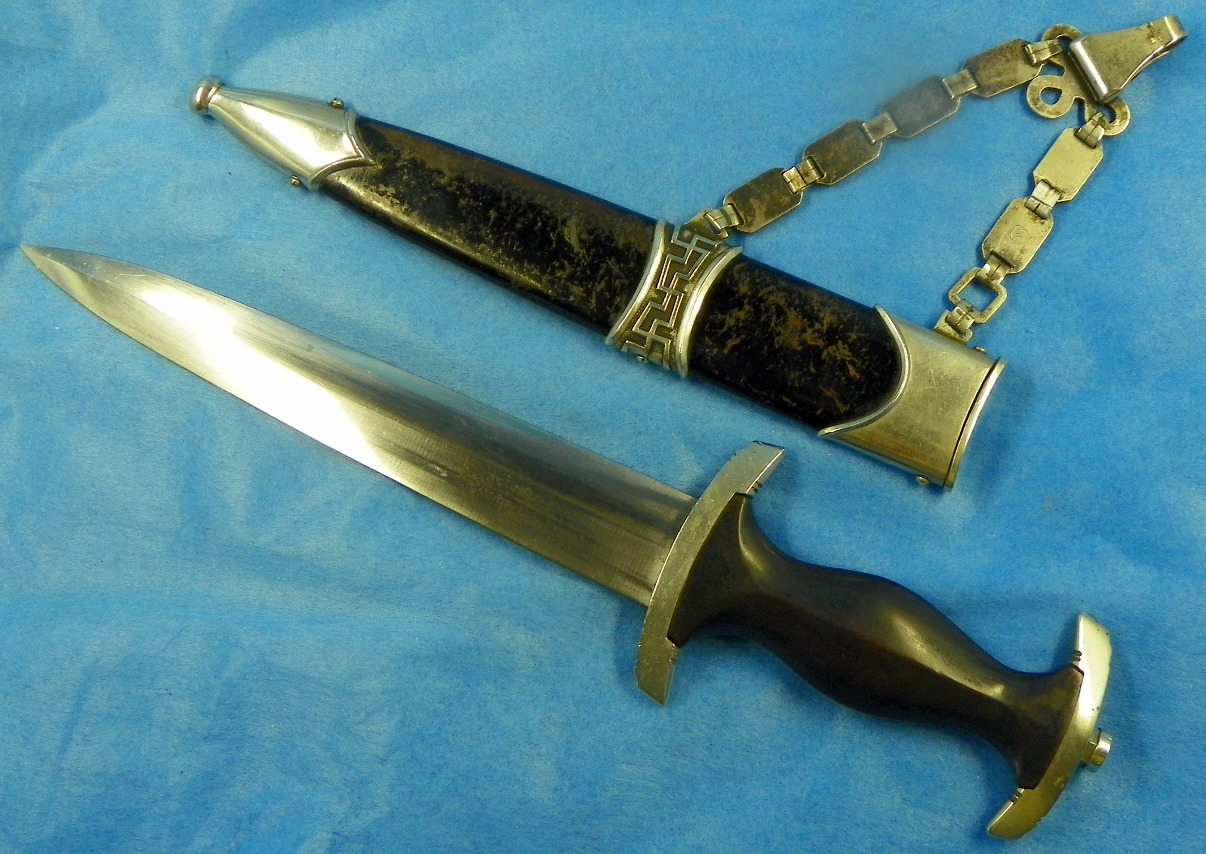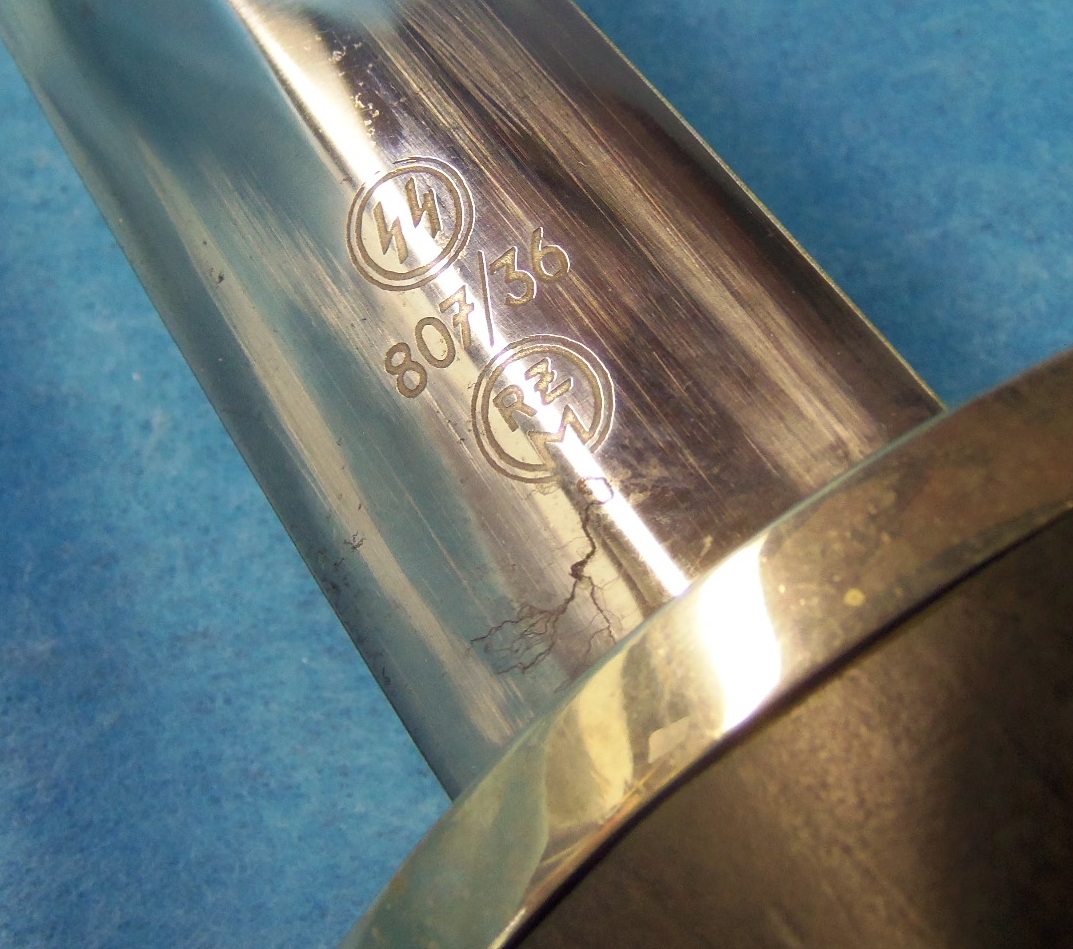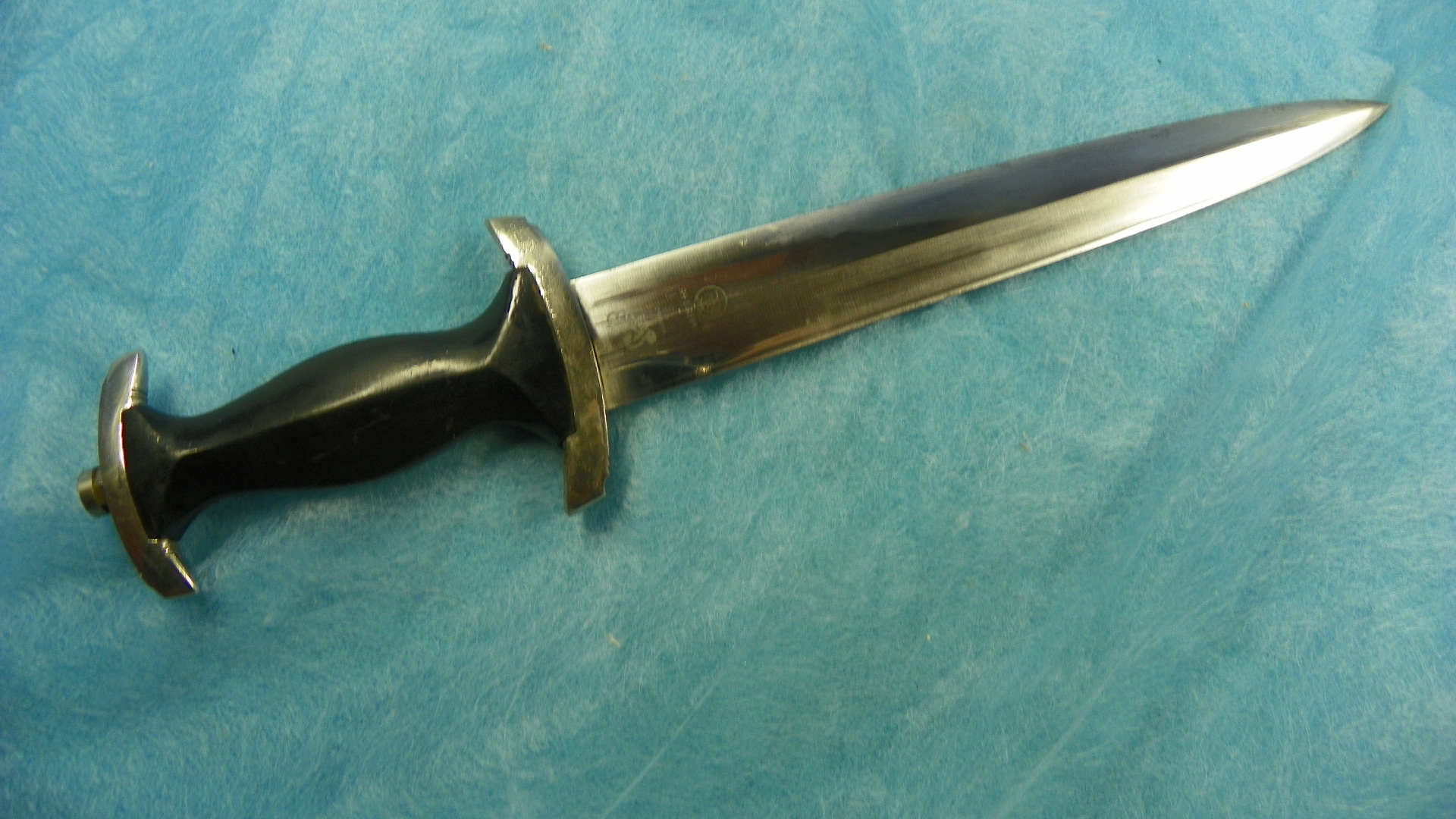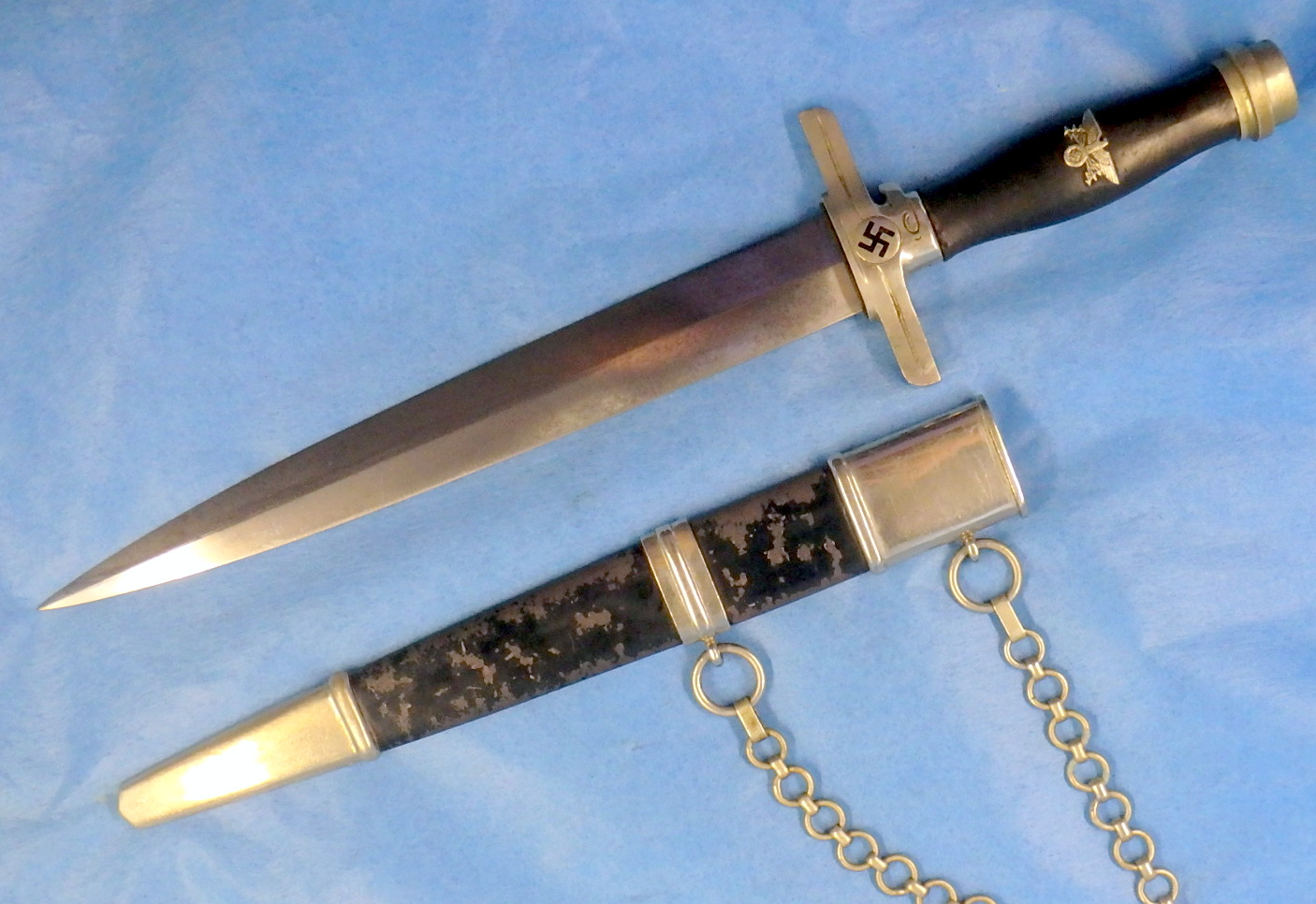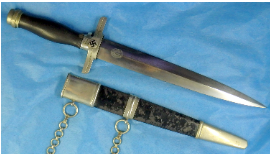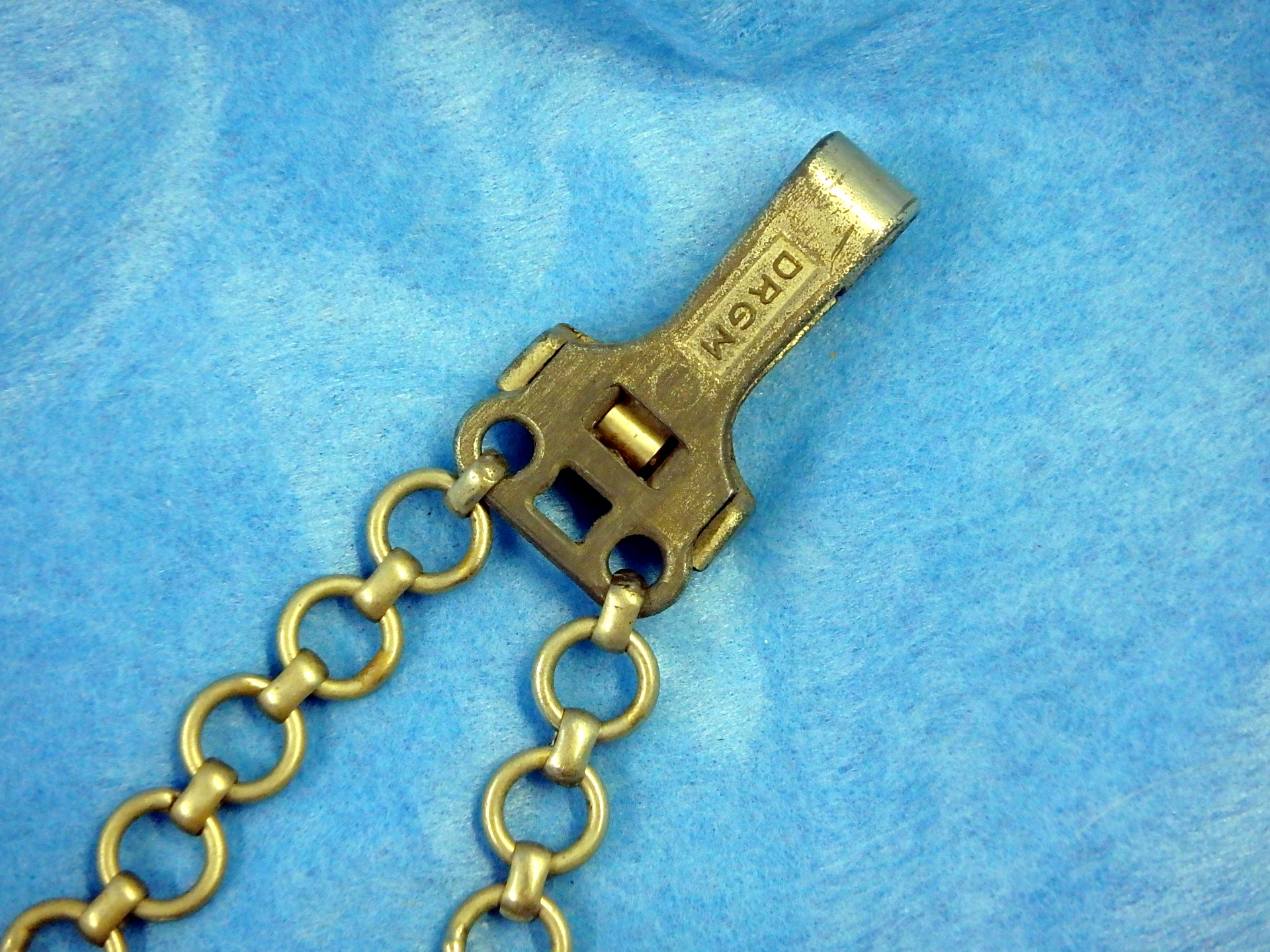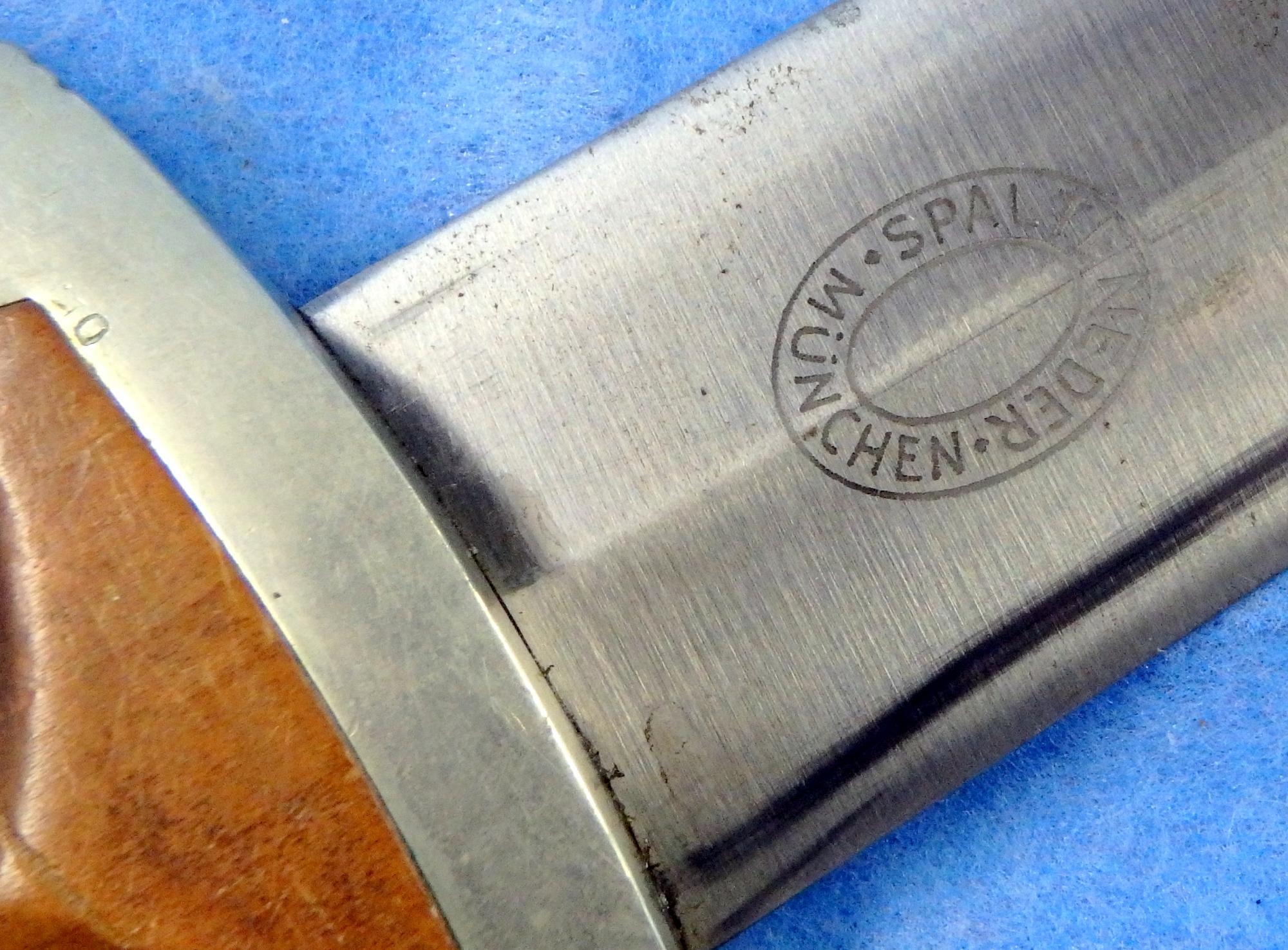 10. THIRD REICH NAVAL DAGGER BY CARL EICKHORN WITH ORANGE GRIP
Excellent plus engraved blade with scarce stamped 1934 Double Oval
Eickhorn trademark. No sharpening or dings. Brass fittings and
scabbard and nice orange wire wrapped grip. Grip has a couple of small
hairline cracks and one very minor chip just above the crossguard by the
wire hole that would be covered by a knot. Has red felt washer. Brass
scabbard has no major dents. Just an excellent early Nazi period Naval
Dagger. Price is $895 plus shipping.