2. TANK ASSAULT IN SILVER
SOLID BACK AND MARKED TO MANUFACTURER HERMANN AURICH COMPLETE WITH PIN AND CATCH. SOME FADING TO SILVER, BUT EXCELLENT. PRICE IS $275 PLUS $7.50 SHIPPING STATESIDE
5. GENERAL ASSAULT BADGE IN SILVER. Heavy badge in very good
condition, but missing catch. Came from a large estate of a US POW camp
guard in Italy. Priippingce is $100.00 plus sh
7. GERMAN COASTAL ARTILLERY BADGE
Manufactured by scarce manufacturer F. Wiedmann, this type 3 design
badge is in very good condition. Price is $225 plus $12 stateside
shipping.
8. WAR SERVICE CROSS 1ST CLASS WITH SWORDS , Choice near mint with nice
silver finish and marker L/11 (Deumer). Price is $$250 plus $10 Shipping Stateside
10. DRL SPORT'S BADGE IN BRONZE. Excellent condition and well struck.
Price is $50 plus $5 shipping stateside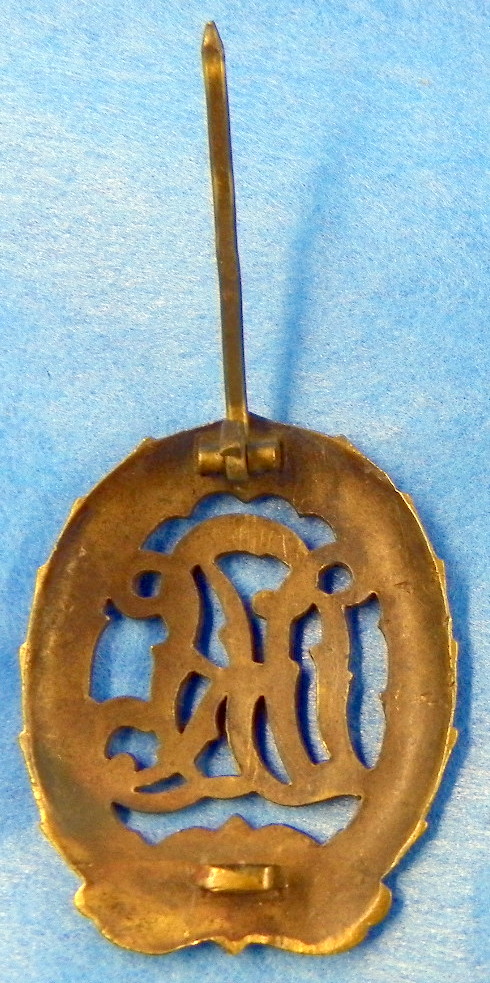 11. SA Sport's Badge in Bronze by Redo. In average condition bronze plated steel.
Price $50 plus $5 Shipping stateside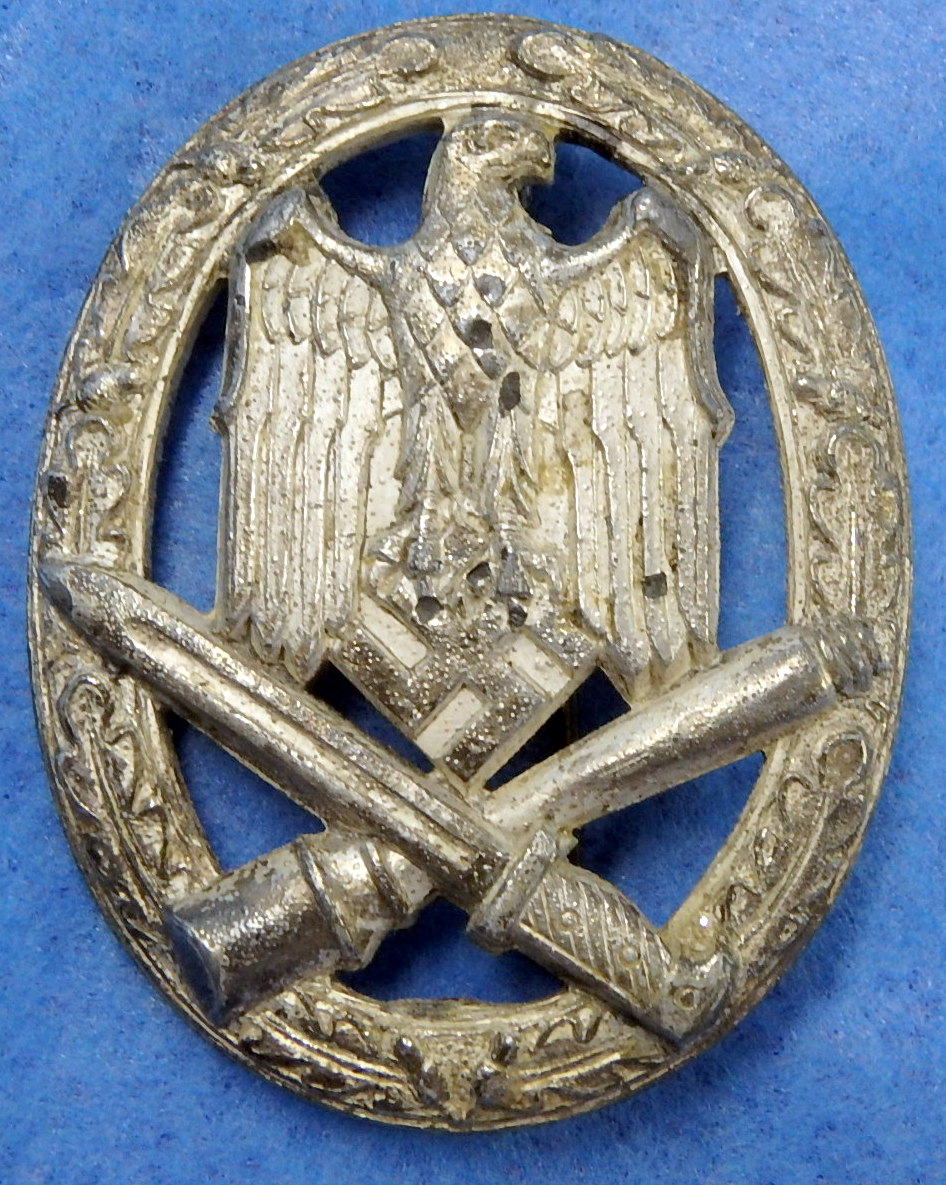 1. OKT. 1, 1938 SUDETENLAND FLOWER CAMPAIGN MEDAL WITH PRAG BAR.
Very good to excellent condition and BAR is marked L/12 on the back
side. Price is $150 plus $11 Priority Mail stateside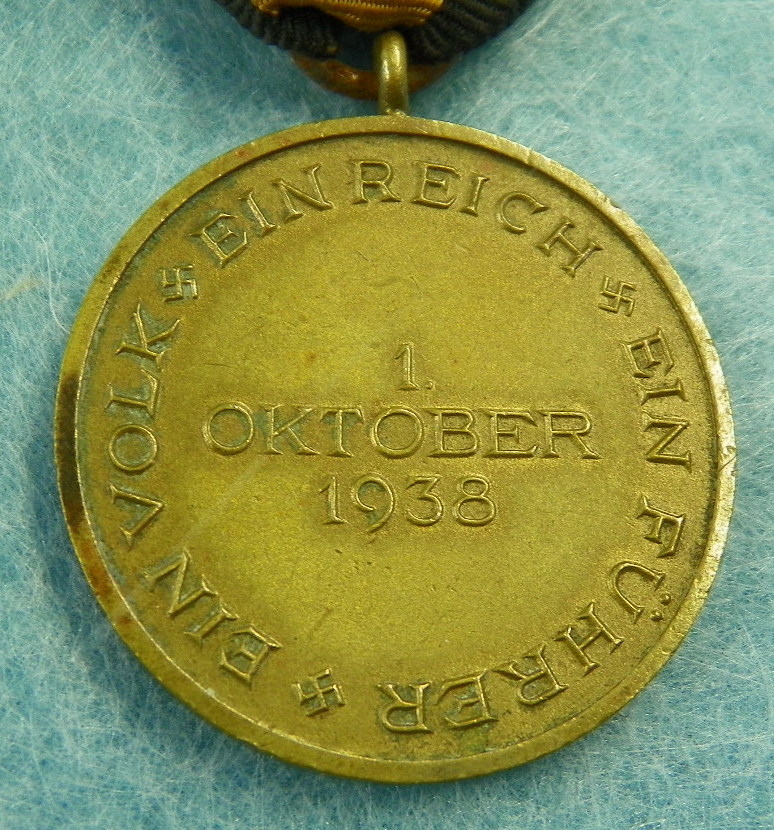 3.1939 IRON CROSS 1ST CLASS BRASS CORE. Unmarked EK I with brass
center. Near Mint condition and the best brass core that I have ever
had. Usual terms and guaranteed. Price is $350 plus $12 stateside
shipping.
4. SILVER FEMALE RAD HARVEST BROACH.
Serial numbered 8925 and has a
specially added jeweler installed security locking pin & catch. In
excellent condition and unusual. Price is $100 plus $10 shipping stateside.
6. Luftwaffe Flak Badge by W. Hobacher (HB) with nice grey finish. A
heavy badge in great condition and not a common maker. Price is $295
plus $12 stateside shipping

12. DJ LEISTUNGEN RUNE IN SILVER. Nice Rune in Silver and Numbered 27677
and manufacturer marked M1/120. Price is $95 plus shipping
9. 1936 1ST TYPE BLACK WOUND BADGE. Excellent condition showing some
wear. Price is $150 plus shipping stateside.e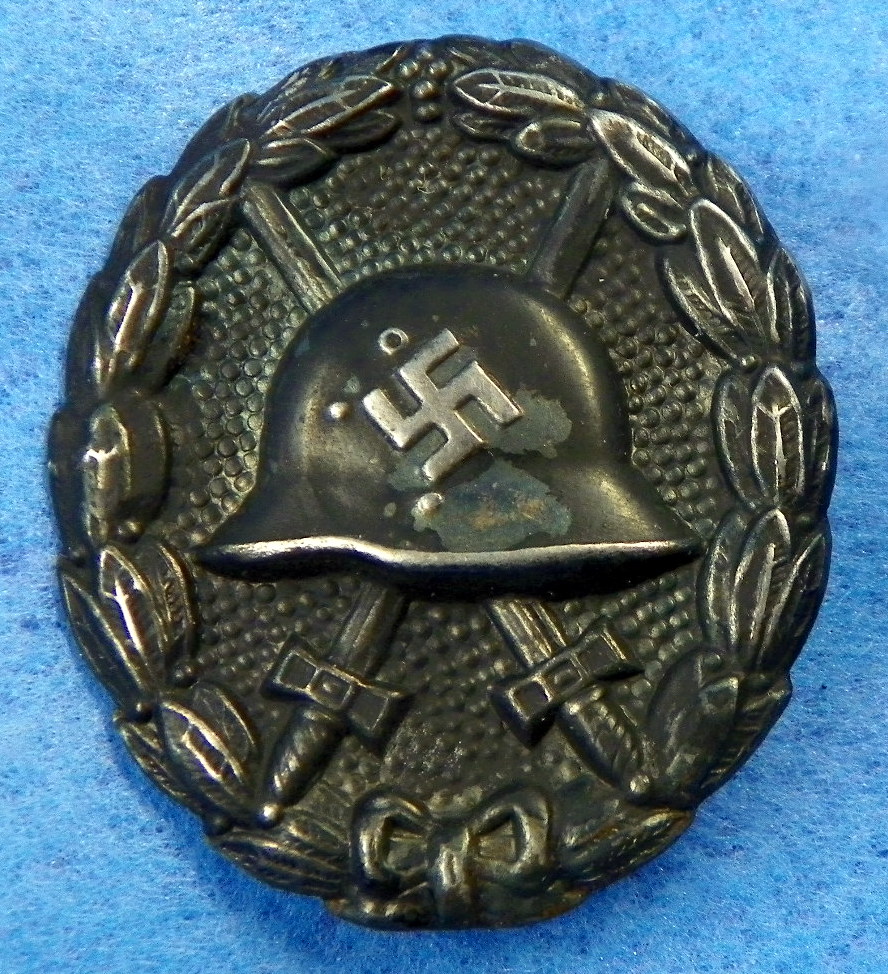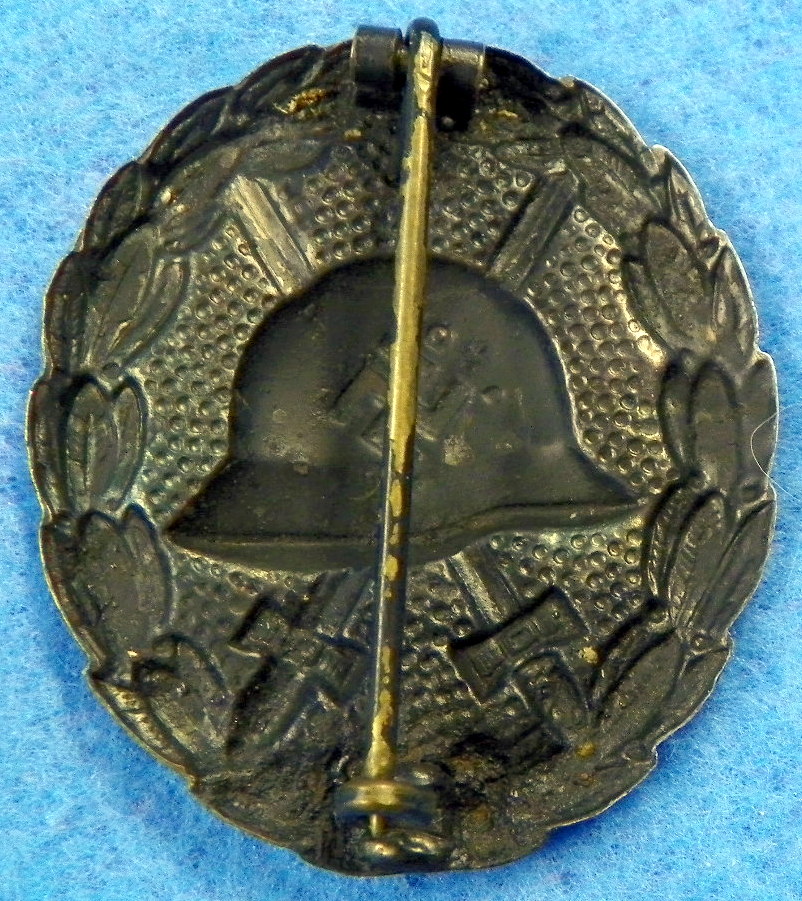 12. 1939 SILVER WOUND BADGE , CASED #65
1939 Silver Wound Badge in original maroon case marked 65. Badge is Zn
base and has faded, but appears unworn and in near mint condition.
Maroon case is nice with brass hinge and in excellent condition. Price
is $225 plus $13 Priority Mail Signature Required stateside.

13. WAR SERVICE CROSS 2ND CLASS WITH RIBBON. Ring is marked 1 and cross has
a couple of very minor spots to edge boarder, otherwise is very nice.
Price is $25 plus $5 shipping stateside.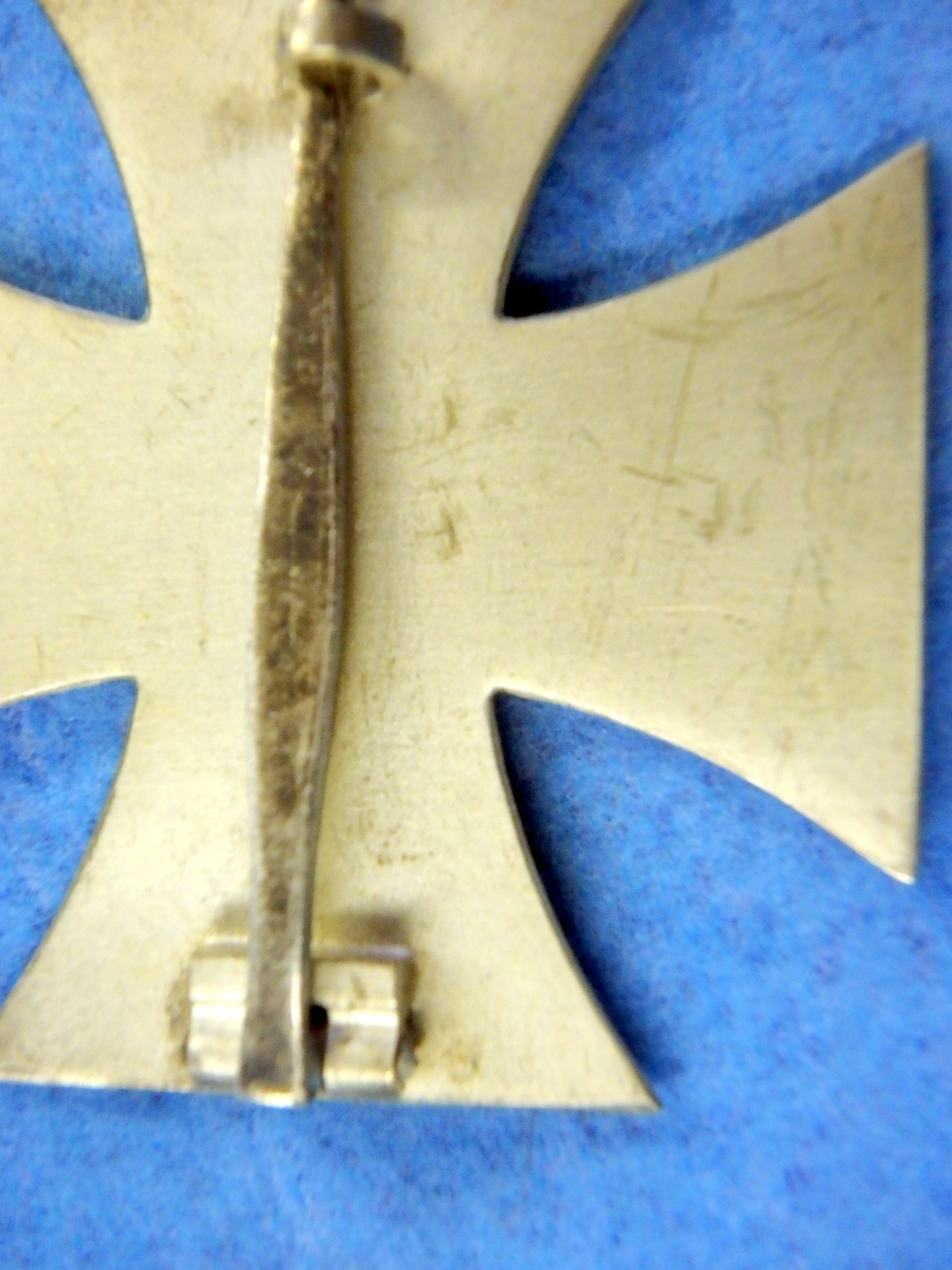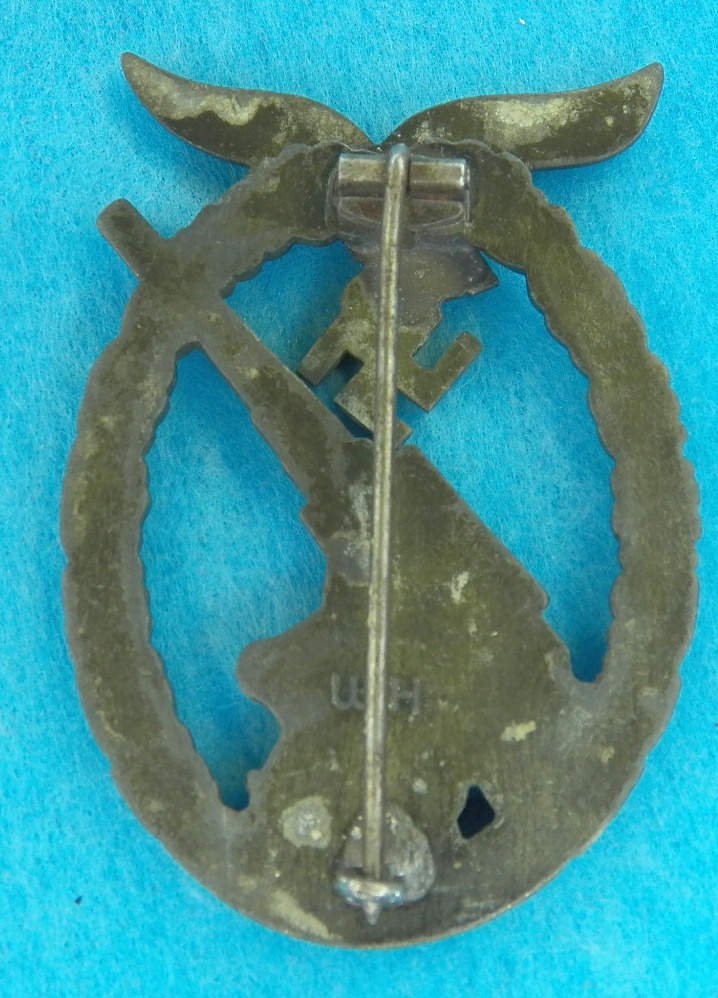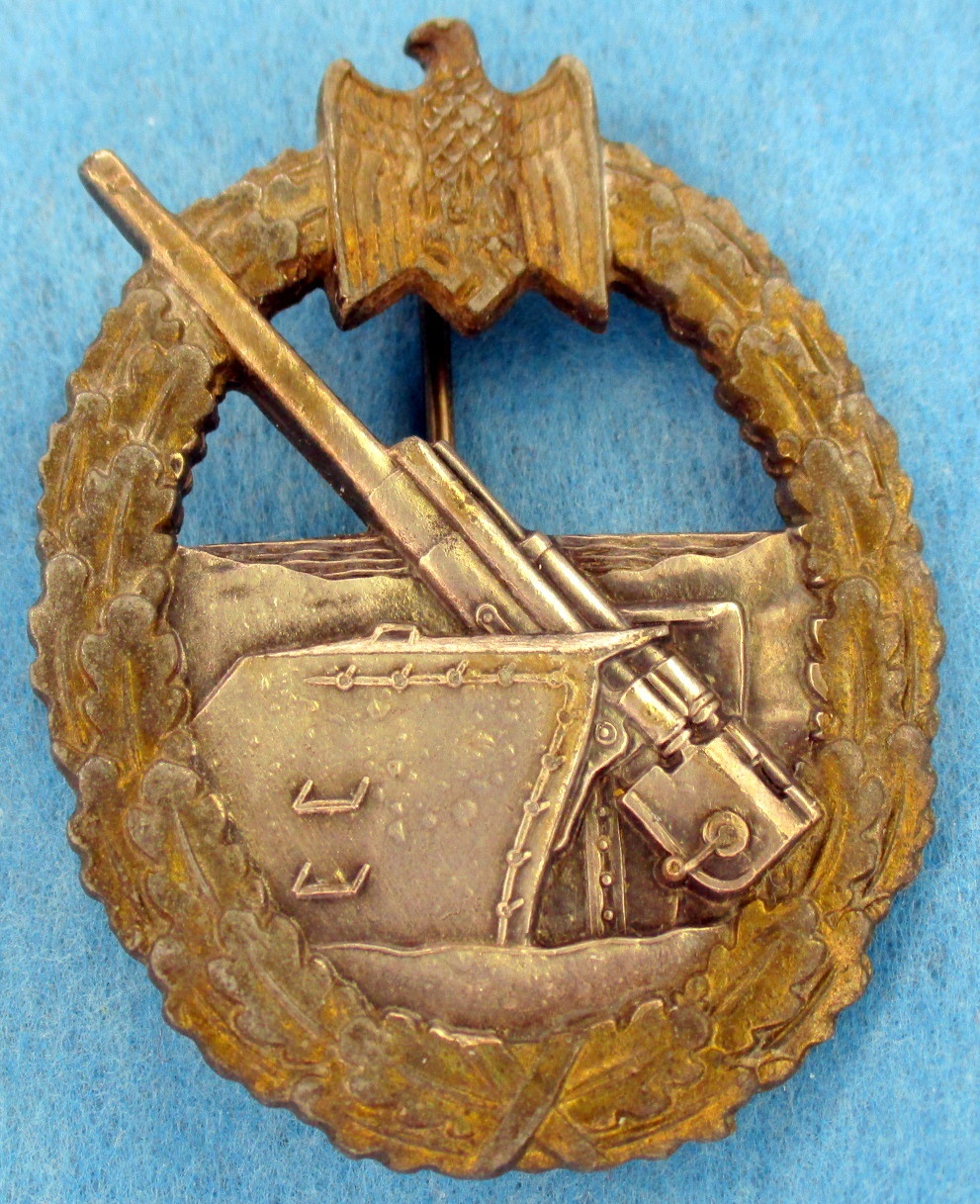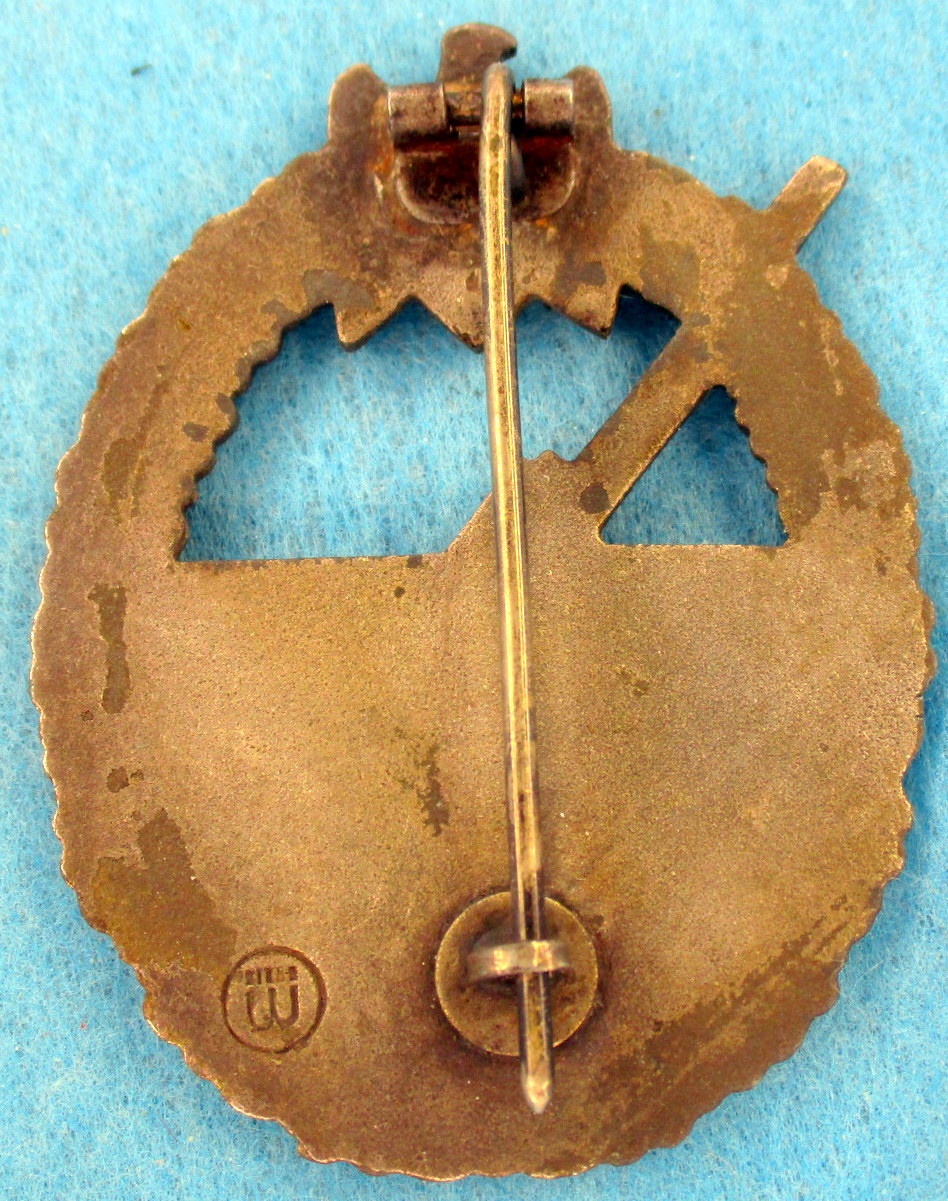 14. INFANTRY ASSAULT BADGE IN SILVER. Stamped type with unusual pin & catch
set up. Nice condition, but front darkened over time. Price is $140
plus $10 stateside shippingde.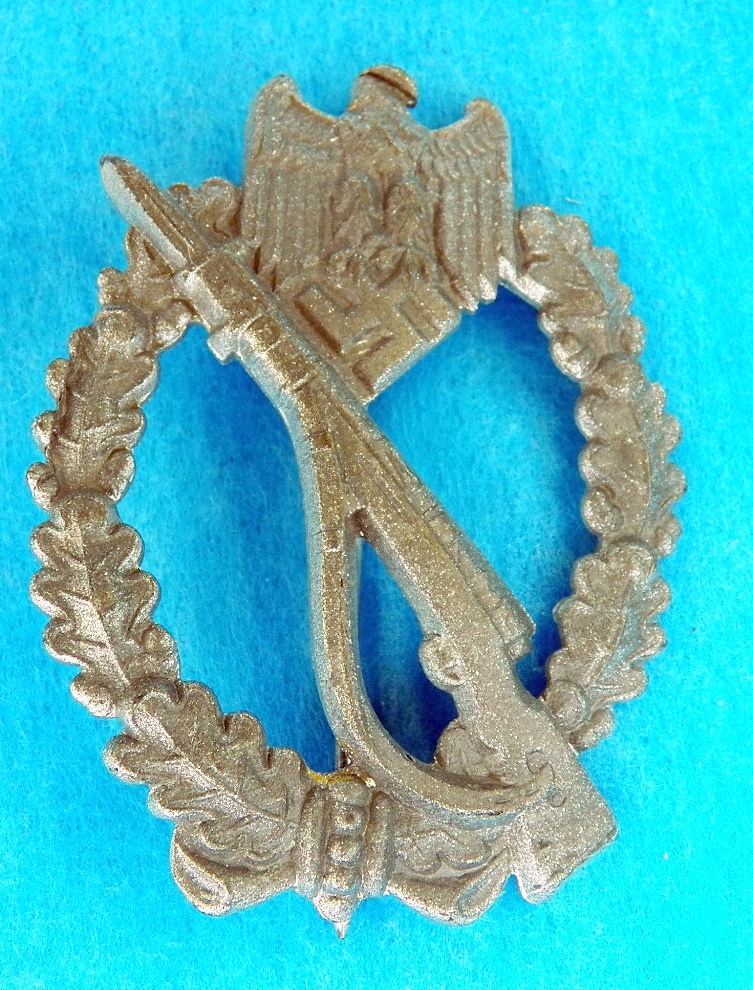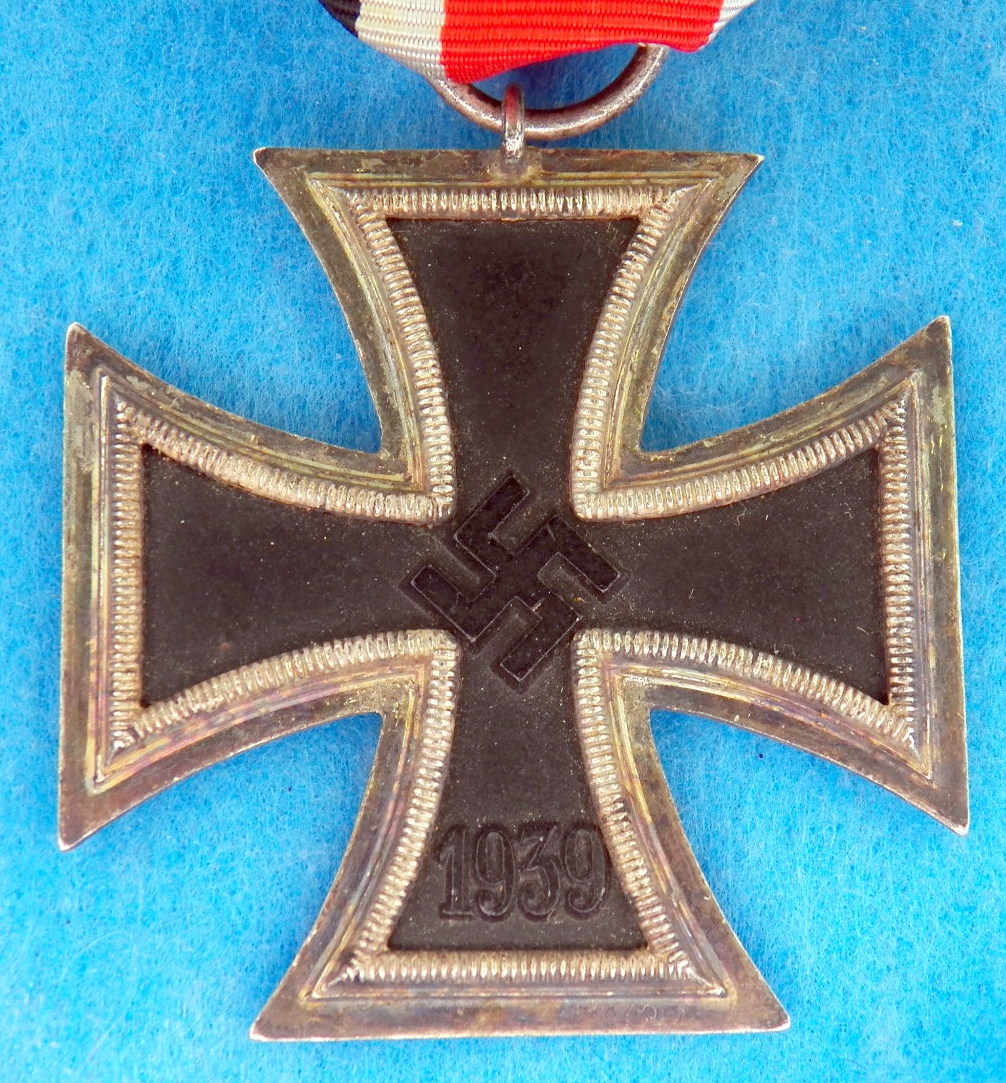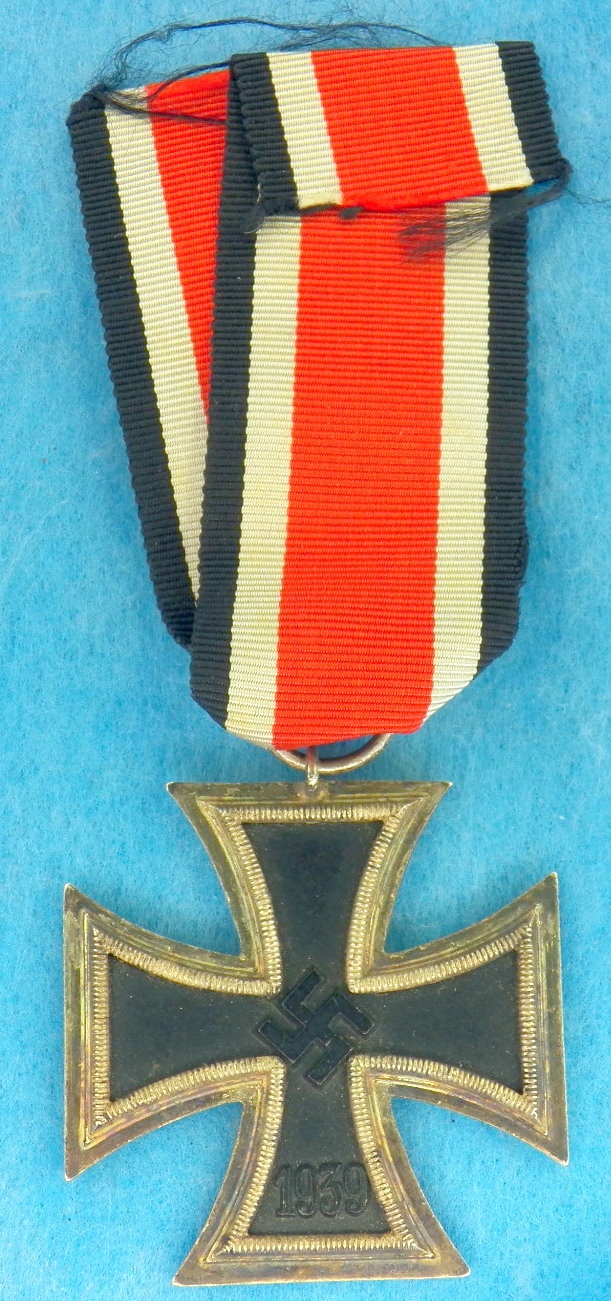 15. 1939 IRON CROSS 2ND CLASS.
Excellent condition with ribbon.
Price is $145 plus $10 stateside shipping.
16. LUFTWAFFE RADIO OP/AIR GUNNER BADGE IN CLOTH.
Padded type in cottonthread. Great detail and has paper backing. Excellent condition and
priced at $120 plus $10 stateside shipping..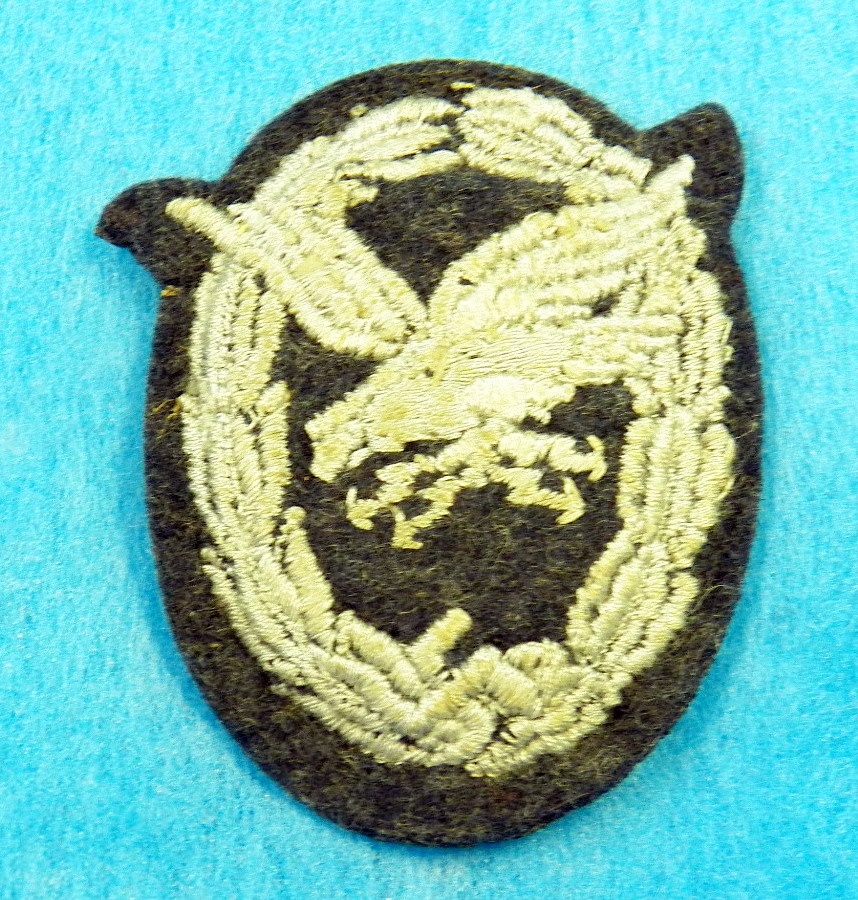 17. RUSSIAN FRONT MEDAL WITH RIBBON.
1941/42 Winter Campaign in East Medal
with ribbon. In very good condition and ring not marked. Price is $60
plus $5 stateside shipping.
19. GERMAN 25 YR. CIVIL SERVICE MEDAL.
Silver Cross with Swastika and wreath on obverse and wording: Fur Treue
Dienst (For Loyal Service) on the reverse. Has ribbon and pin.
Tarnished and some soiling to ribbon. Very Good Condition. Price $45
plus $5 stateside shipping
..
20. MOTHER'S CROSS IN BRONZE.
Choice condition with no enamel damage and complete with snap attached to the ribbon showing that the German mother wore the cross around her neck.
Price is $70 plus $5 stateside shipping.
..
18. 1939 BLACK WOUND BADGE MARKED 81
Nice Original 1939 Black Wound Badge with manufacturer's number 81 in
the helmet on the reverse. Shows light wear to original black finish.
Overall very good and priced at $60 plus $5 stateside shipping.
21. HITLER HEAD SHOOTING MEDAL FOR BAD LAUTERBERG i/HARZ
Approximately half dollar size silver medal on white and green bow tie
ribbon pin. Tarnished silver medal. Price is $85 plus $5 stateside
shipping.