1. INFANTRY ASSAULT BADGE IN SILVER
NO MARKINGS, SOLID BACK AND COMPLETE WITH PIN AND CATCH IN
EXCELLENT CONDITION
(COMES FROM A US VETERAN WHO GOT IT IN ITALY).
$125.00 PLUS $6.50 SHIPPING
2. TANK ASSAULT IN SILVER
SOLID BACK AND MARKED TO MANUFACTURER HERMANN AURICH COMPLETE WITH PIN AND CATCH. SOME FADING TO SILVER, BUT EXCELLENT. PRICE IS $275 PLUS $7.50 SHIPPING STATESIDE
3. LUFTWAFFE ANTI AIRCRAFT FLAK BADGE
VERY NICE UNMARKED BADGE WITH SCARCE BALL HINGE AND HAS GERMAN'S
INITIALS SCRATCHED ON BACK (FROM US VETERAN TAKEN IN ITALY). PRICE
$375 PLUS $7.50 STATESIDE SHIPPING
4. LUFTWAFFE GROUND ASSAULT BADGE
VERY GOOD CONDITION AND MARKED TO MANUFACTURER GB. HAS PIN AND
CATCH AND SEPARATELY ATTACHED EAGLE. FROM US VETERAN WHO GOT IT IN
ITALY. PRICE $295 PLUS $7.50 SHIPPING STATESIDE
5. GENERAL ASSAULT BADGE IN SILVER. Heavy badge in very good
condition, but missing catch. Came from a large estate of a US POW camp
guard in Italy. Priippingce is $100.00 plus sh
6. 1939 SILVER WOUND BADGE
FADED TO GREY AND IN EXCELLENT CONDITION MAKER MARKED 107 IN
BOX. FROM US VETERAN WHO GOT IT IN ITALY. PRICE IS $60 PLUS $6
SHIPPING STATESIDE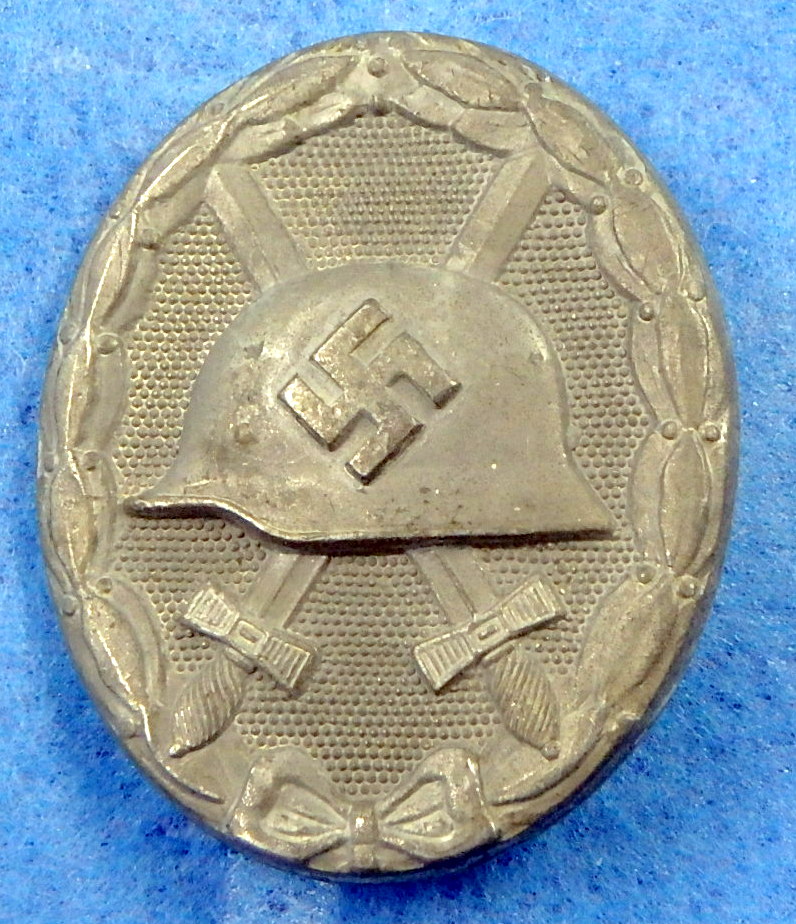 7. 1939 WOUND BADGE IN GOLD
FADING TO GREY WITH GOLD PIN AND IN EXCELLENT CONDITION. FROM US
VETERAN WHO GOT IT IN ITALY. PRICE IS $90 PLUS $7.50 SHIPPING STATESIDE
8. 1939 IRON CROSS 1ST CLASS
IN EXCELLENT CONDITION WITH PIN NUMBERED 65 FOR MANUFACTURER. FROM
US VETERAN WHO GOT IT IN ITALY. PRICE IS $275 PLUS $7.50 SHIPPING STATESIDE
9. 1939 IRON CROSS 1ST CLASS WITH BRASS CENTER
SCARCE TYPE WITH BRASS CENTER IN EXCELLENT CONDITION. FROM US
VETERAN WHO GOT IT IN ITALY. PRICE IS $295 PLUS $7.50 SHIPPING STATESIDE
10. LUFTWAFFE PARATROOPER'S BADGE IN CLOTH
MINT CONDITION AND VERY NICE WEAVE WITH GAUZE BACKER AND PINK INK
MANUFACTURER'S MARK. PRICE $145 PLUS $6 SHIPPING STATESIDE
11. DEMJANSK SHIELD MAKER MARKED
RARE TYPE WITH MANUFACTURER'S MARK ON REVERSE. HAS BEEN REMOVED
FROM A UNIFORM AND STILL HAS 3 OF 4 PRONGS ON THE REVERSE. SHOW SOME
LIGHT RUST TO SPOTS ON FROM AND REVERSE IS VERY NICE AND MARK IS EASILY
SEEN. FROM US VETERAN WHO GOT IT IN ITALY. PRICE IS $300 PLUS $7.50
SHIPPING.
12. WAR SERVICE CROSS 1ST CLASS WITH SWORDS , Choice near mint with nice
silver finish and marker L/11 (Deumer). Price is $$250 plus $10 Shipping Stateside
13. DRL SPORT'S BADGE IN BRONZE. Excellent condition and well struck.
Price is $50 plus $5 shipping stateside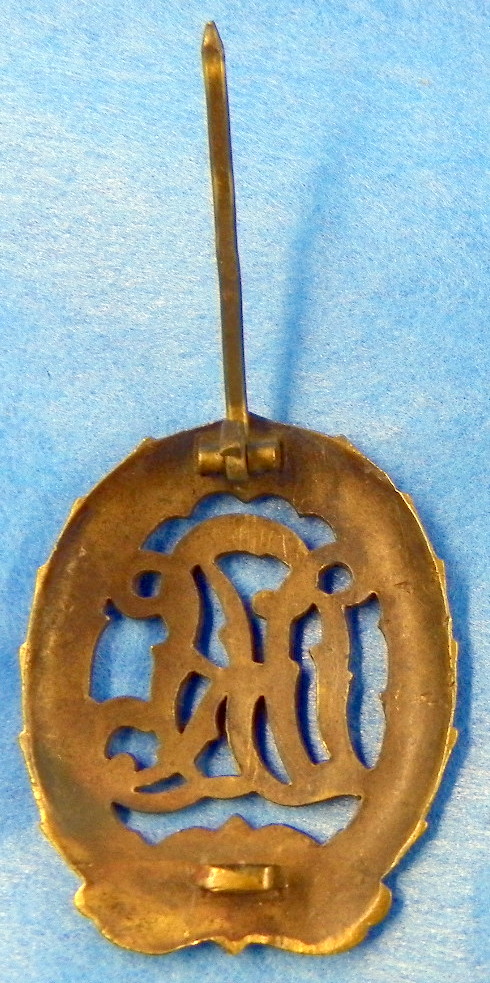 14. TYPE 1936 WOUND BADGE. Appears to be made of Stamped Brass and is
in excellent condition. Finish is either silver or antiqued black.
Nice detail and priced at $125 plus $10 shipping stateside
15. 1st TYPE NUMBERED SA SPORT"S BADGE IN BRONZE. Excellent condition and
low number made by L. CHR. LAUER NUREMBERG. Price is $85 plus $5
16. SA Sport's Badge in Bronze by Redo. In average condition bronze plated steel.
Price $50 plus $5 Shipping stateside
17. DJ LEISTUNGEN RUNE IN SILVER. Nice Rune in Silver and Numbered 27677
and manufacturer marked M1/120. Price is $95 plus shipping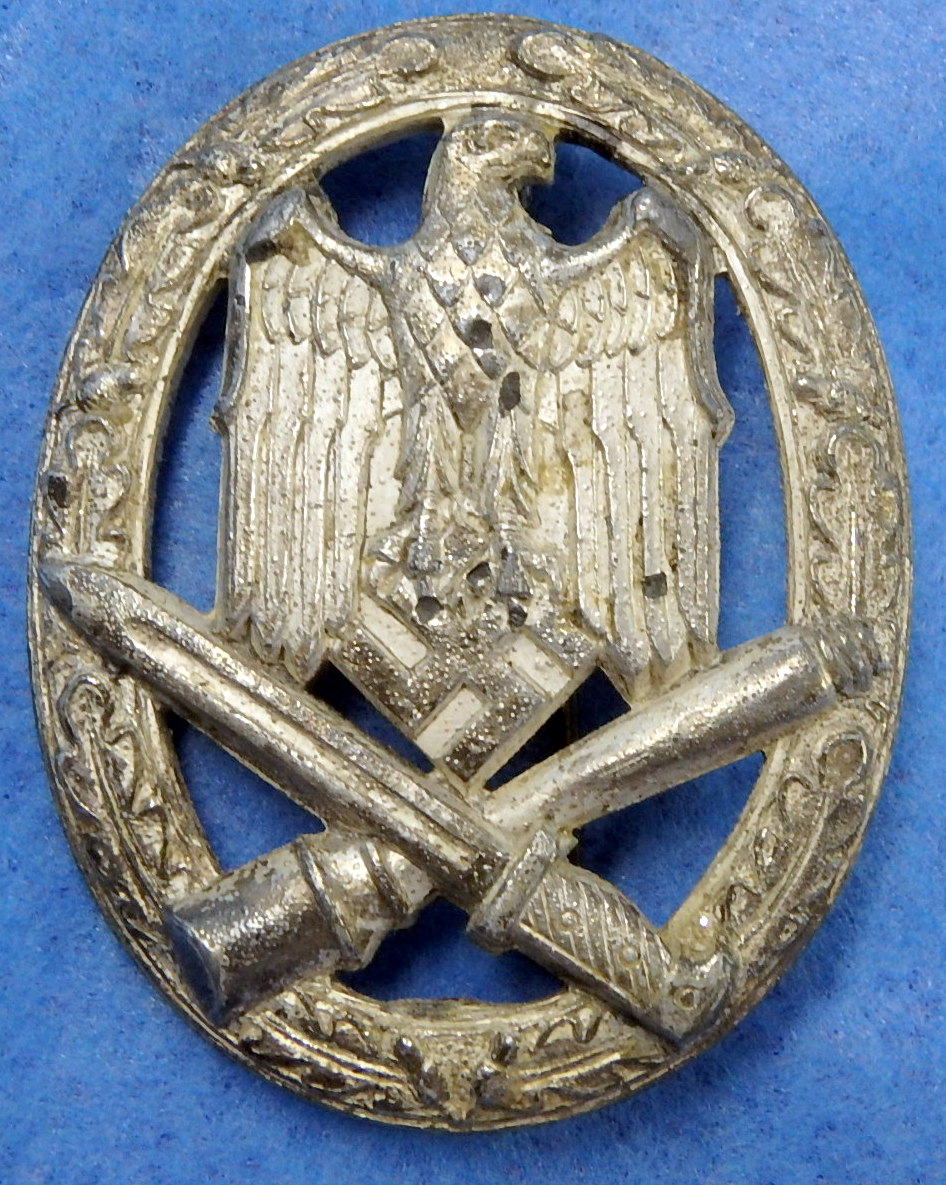 18. GERMAN CROSS IN GOLD CLOTH VERSION. 1941 German Cross in Gold in Cloth with black heavy paper backer. Some slight mothing to background and probably has been worn, otherwise in very good condition. Price is $475 plus shipping.