1. INFANTRY ASSAULT BADGE IN SILVER
NO MARKINGS, SOLID BACK AND COMPLETE WITH PIN AND CATCH IN
EXCELLENT CONDITION
(COMES FROM A US VETERAN WHO GOT IT IN ITALY).
$125.00 PLUS $6.50 SHIPPING
2. TANK ASSAULT IN SILVER
SOLID BACK AND MARKED TO MANUFACTURER HERMANN AURICH COMPLETE WITH PIN AND CATCH. SOME FADING TO SILVER, BUT EXCELLENT. PRICE IS $275 PLUS $7.50 SHIPPING STATESIDE
3. LUFTWAFFE ANTI AIRCRAFT FLAK BADGE
VERY NICE UNMARKED BADGE WITH SCARCE BALL HINGE AND HAS GERMAN'S
INITIALS SCRATCHED ON BACK (FROM US VETERAN TAKEN IN ITALY). PRICE
$375 PLUS $7.50 STATESIDE SHIPPING
4. LUFTWAFFE GROUND ASSAULT BADGE
VERY GOOD CONDITION AND MARKED TO MANUFACTURER GB. HAS PIN AND
CATCH AND SEPARATELY ATTACHED EAGLE. FROM US VETERAN WHO GOT IT IN
ITALY. PRICE $295 PLUS $7.50 SHIPPING STATESIDE
5. GERMAN CLOSE COMBAT BAR IN BRONZE
VERY GOOD CONDITION WITH MANUFACTURER'S MARK F&BL NEAR CATCH ON
REVERSE. COMPLETE WITH PIN, CATCH AND BACK PLATE. FROM US VETERAN WHO GOT IT IN ITALY. PRICE IS $425 PLUS $7.50
6. 1939 SILVER WOUND BADGE
FADED TO GREY AND IN EXCELLENT CONDITION MAKER MARKED 107 IN
BOX. FROM US VETERAN WHO GOT IT IN ITALY. PRICE IS $60 PLUS $6
SHIPPING STATESIDE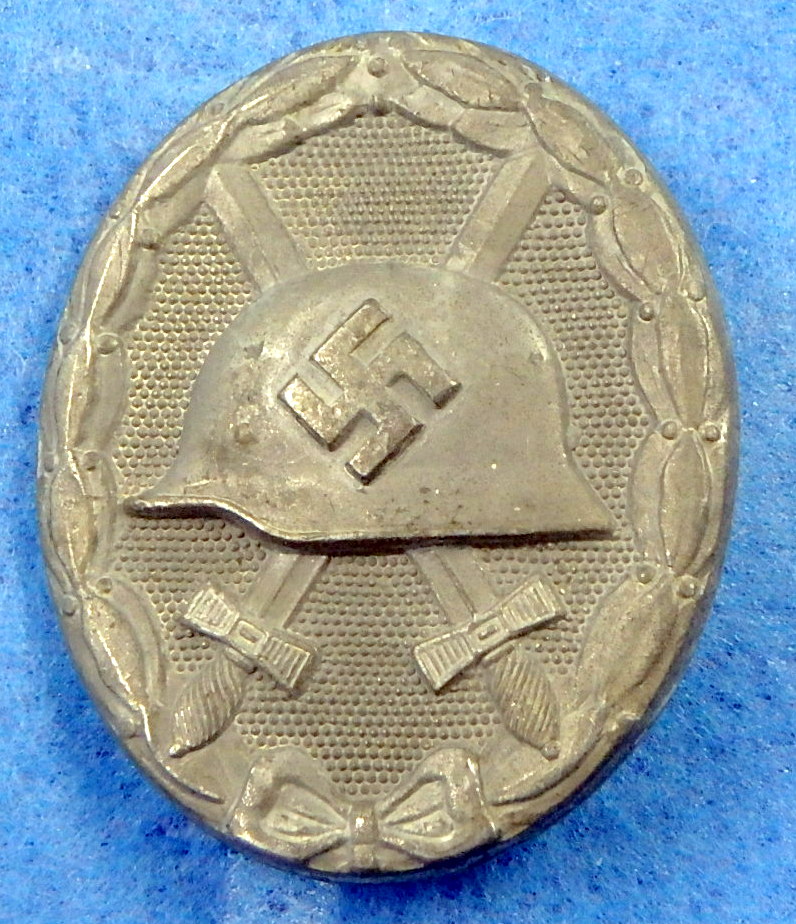 7. 1939 WOUND BADGE IN GOLD
FADING TO GREY WITH GOLD PIN AND IN EXCELLENT CONDITION. FROM US
VETERAN WHO GOT IT IN ITALY. PRICE IS $90 PLUS $7.50 SHIPPING STATESIDE
8. 1939 IRON CROSS 1ST CLASS
IN EXCELLENT CONDITION WITH PIN NUMBERED 65 FOR MANUFACTURER. FROM
US VETERAN WHO GOT IT IN ITALY. PRICE IS $275 PLUS $7.50 SHIPPING STATESIDE
9. 1939 IRON CROSS 1ST CLASS WITH BRASS CENTER
SCARCE TYPE WITH BRASS CENTER IN EXCELLENT CONDITION. FROM US
VETERAN WHO GOT IT IN ITALY. PRICE IS $295 PLUS $7.50 SHIPPING STATESIDE
10. CLOTH GERMAN CROSS IN GOLD
IN GOOD CONDITION AND HAS BEEN SEWN ON WITH BLACK UNIFORM
MATERIAL STILL ON BACK SIDE. FROM US VETERAN WHO GOT IT IN ITALY.
PRICE IS $475 PLUS $10 SHIPPING STATESIDE
11. LUFTWAFFE PARATROOPER'S BADGE IN CLOTH
MINT CONDITION AND VERY NICE WEAVE WITH GAUZE BACKER AND PINK INK
MANUFACTURER'S MARK. PRICE $145 PLUS $6 SHIPPING STATESIDE
12. DEMJANSK SHIELD MAKER MARKED
RARE TYPE WITH MANUFACTURER'S MARK ON REVERSE. HAS BEEN REMOVED
FROM A UNIFORM AND STILL HAS 3 OF 4 PRONGS ON THE REVERSE. SHOW SOME
LIGHT RUST TO SPOTS ON FROM AND REVERSE IS VERY NICE AND MARK IS EASILY
SEEN. FROM US VETERAN WHO GOT IT IN ITALY. PRICE IS $300 PLUS $7.50
SHIPPING.